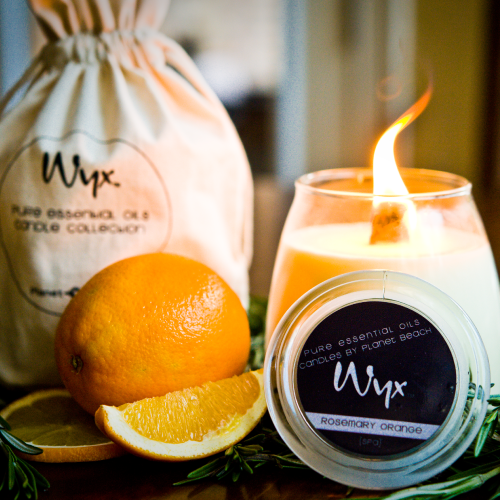 If you've spent any amount of time on my blog you'll know that one of my favorite things ever are candles. I've done a few reviews on ones that I feel are exceptional but this one is by far my new favorite!
First off let me say that I am a firm believer in aromatherapy and the benefits of essential oils. The candle I got from PlanetBeachShop.com is absolutely amazing. It is made with pure essential oils blended with premium natural soy wax. There are several scents to choose from.
I chose the Rosemary Orange scented candle because I work from home and I can lack focus at times. Rosemary is known to increase concentration, improve reading efficiency as well as lift your spirits. When you pair Rosemary and Orange together they can help with depression.
The smell is so beautiful! The Rosemary gives off a woodsy scent with a hint of the citrus from the orange.
This has got to be the biggest wick I've ever seen.


Sometimes aromatherapy candles can be hard to smell or after a while you just don't smell them anymore. Not this one. I can light it in my bedroom and after only a few minutes you can smell it throughout my whole house for hours. I'm pretty sure that has something to do with the massive wooden wick. With the wick being so big it spreads the scent farther and faster than candles with a regular sized wick.
Kinda ironic I keep my candle by Anna and Elsa.
I'm really impressed with my WYX Pure Essential Oils Candle. If candles aren't your thing Planet Beach Shop offers a ton of items for skin care, wellness and stress relief. Right now you can win $100+ prize pack from
PlanetBeachShop.com
. Enter Below and good luck!!!
a Rafflecopter giveaway
This post was created in partnership with eAccountable. All opinions are my own.